Dingemans malt delivery for everyone
Are you a local brewer or a large worldwide beer factory? Dingemans maltings has a solution for you. Read more about our deliveries in small and large malt bags and in bulk, locally and worldwide.
Packaging: From 25 kg up to ...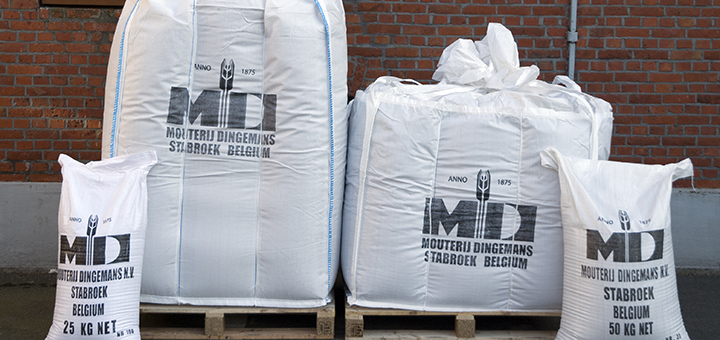 Small Maltbags
We already supply malt in bags from 25 kg. We also have 50 kg malt bags available.
Big Maltbags
Would you like to receive your favorite types of malt in larger packaging? That is possible, we also pack our malts in bags of 500 kg and 1000 kg.
Durable and Usable
Large or small packaging? Our packaging is sustainable because it is recyclable. The polypropylene bags of 25 kg and 50 kg and the big bags (both large and small big bags) that are used to pack the malt are recyclable bags.
They are also very easy to open, as you can see in this video:
Malt delivery in bulk
Of course we can also supply malt in bulk. We will send a truck, ship or train with a bulk order your way.
Distribution: your malt delivered, locally and worldwide
Deliver locally
We deliver malt at your doorstep, or you can pick it up yourself at the malthouse.
Worldwide
Thanks to our central location, close to the port of Antwerp, we can supply malt worldwide quickly and cost effectively. We also have distributors all over the world where you can order our malts directly.
Tailor made solutions
Every customer is unique, every customer has his own story. That is why we like to listen to your specific needs. Not only in terms of the composition of your malt, but also in terms of packaging and delivery.